Guest blog post by Margaret Wong, President and CEO, McWong Environmental Technology.
來自美國麥王環保能源集團董事長兼首席執行官王易虹女士的博文。
As a participant of a special 24-American company delegation to China, led by U.S. Secretary of Commerce Penny Pritzker and U.S. Department of Energy Deputy Secretary Dr. Elizabeth Sherwood-Randall, I came prepared to share with U.S. and China leaders about the latest in U.S. capabilities and the business opportunities for U.S. environmental and energy efficient technology and services to be utilized in China. In particular those technologies related to clean water, smart cities and the latest wastewater treatment techniques - with a highlight on unique solutions we use to treat specific contents of wastewater, by using mainly membrane and thermal technology in the zero liquid discharge processes. Thanks to U.S. leadership like that of Secretary Pritzker and Deputy Secretary Dr. Sherwood-Randall, there has been a very positive top-down approach to help build public-private partnership allowing businesses like ours to create bottom-up solutions that have been warmly received. Not only have I found a warm welcome by the numerous leaders we have met with along the way, but I have found a common thread that speaks to the larger picture, which is the deep interest to create better and improved methods for smart and sustainable growth in China.
由美國商務部長Penny普利茲克和美國能源部官員伊麗莎白舍伍德·蘭德爾博士副部長指定的24家美國公司對中國的商貿代表之一,我來分享中美領導人關于美國環保和節能技術與服務在中國的最新應用和提供的商業機會的分析。尤其是與智能技術相關的最新的城市污水處理技術,主要通過使用膜技術和熱零液體排放流程,突出我們自理特殊廢水的獨特解決方案。非常感謝普利茲克博士和舍伍德·蘭德爾積極幫助,建立國家與企業的公私伙伴關系,允許和積極推動企業提出對國家負責的環保與節能解決方案,受到了像我們這樣企業的熱烈歡迎。我們領導人了解過很多方案,但是這個方案,不僅僅是我,也受到許多其它領導人的熱烈歡迎,但我發現一個屬于我們的更好的發展藍圖,這里面的深層意義可以為中國創造更智能的可持續發展的改進辦法。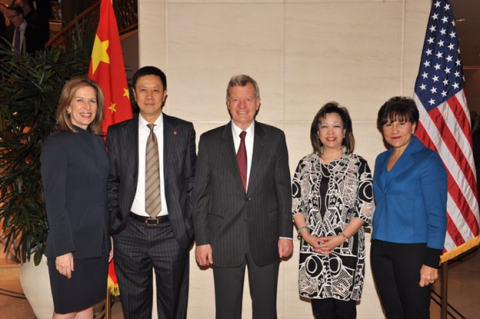 McWong Environmental Technology President & CEO Margaret Wong joins Commerce Secretary Pritzker, Ambassador Baucus, Deputy Energy Secretary Sherwood-Randall and other officials on 24-American company delegation to China.
(美國麥王環保能源集團董事長兼首席執行官王易虹女士加入了商務部長普利茲克,鮑卡斯大使官員鮑卡斯,能源部副部長舍伍德-蘭德爾和其他官員在內的24家美國公司對中國的商貿代表團。)
A lot has been made about recent reports indicating a slow-down in China's economy, noting a reduction from 10 percent annual average GDP gains from 1980 to 2012 to the latest numbers Wednesday, indicating that China's first-quarter gross domestic product grew 7 percent, the slowest pace since the 2009 global recession. However, very little is being discussed about what I call "China's long-term play," to turn China's economy into a more sustainable one. A recent Bloomberg article also illustrates this point by noting that at the same time that many are noting a reduction in GDP gains, they are failing to point out the "scent of fast money hovering over Shanghai, Shenzhen and Hong Kong, where stock markets are enjoying explosive rallies. The Shanghai Composite Index is up 94 percent over the last 12 months and some $4 trillion has been added to the total market value -- now $7.3 trillion -- of companies listed on domestic exchanges over the past year."
最近很多報告表明中國經濟正在放緩,周三的最新數據表示,1980年至2012年間,中國一直保持10%左右的GDP增長率,09年中國第一季度國內生產總值(GDP)增長了7%,成為全球經濟衰退以來的經濟增速最慢的一年。然而,外界很少討論的是中國經濟將轉變成一個更有效更長遠的發展狀態,我稱之為可持續發展。最近的彭博資訊(Bloomberg)的一篇文章也同時指出,許多人注意減少GDP增長,他們未能指出"熱錢資金會在上海、深圳、廣州哪個股票市場上聚集"。上證綜合指數在過去12個月上漲94%,約4萬億美元,包括過去一年所有上市的公司,現在總市值達到7.3萬億美元。"這表明,中國的經濟并沒有所謂的倒退。
The article goes on to point out that the services sector for the first time accounted for more than half, at 51.6 percent, of GDP in the first quarter and that consumption growth was also solid. These factors cannot be ignored. It is clear from our meetings with key government representatives, that China is focused on creating new and innovative solutions to not only sustain economic goals but also to improve living conditions and build more environmentally sound/efficient long-term investments into their cities. The U.S. has a unique opportunity to step up in these areas and assist China in meeting these admirable goals.
文章接下來首次指出,服務業占GDP的51.6%,在第一季度,消費增長也穩步上升。這些因素是不容忽視的。從我們和政府關鍵代表的會面中清楚了解到,中國關注于創造新的革命性的解決方案,不僅要維持經濟發展的目標,而且要提升居住環境和對城市建立更加長期有效的投資。美國將獲得一個獨特的機會去加強這些領域的建設以幫助中國實現這些令人欽佩的目標。
However, such investment in creating sound and sustainable growth will not come without some growing pains. My personal experiences and discussions during this trade mission lend credence to the notion that China is committed to the long haul. McWong Environmental Technology will do all it can to create sound clean energy solutions to assist in those efforts, to improve the overall quality of life in China - which in turn has global benefits for us all in terms of economic stability and improved health!
然而,像這類型的投資在打響名堂和可持續增長方面將帶來一些起步的煩惱。我的個人經歷和討論在此貿易代表團佐證了中國致力于長遠的觀念。McWong的環境技術盡其所能創造可靠地清潔能源解決方案,協助和改善中國整體的生活質量——這反過來也將有利于全球的經濟穩定和人民生活健康的不斷提高。
China's Long-Term Play(與中國的長期合作)
Guest blog post byMargaret Wong, President and CEO,McWong Environmental Technology. As a participan